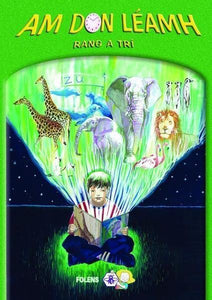 Leabhair Leitheoireachta Rang 3

Am Don Leamh is a new series of Irish Reading and Pre-reading Books for 1st to 6th class. Each book is full of interesting short stories and activities based on the stories.

Leabhar leitheoireachta is ea an Am Don Leamh, ach, ta go leor cleachtai agus gniomhaiochtai scrbhneoireachta ag dul le gach piosa leitheoireachta agus beigh muinteoiri in ann usaid a bhaint as na leabhair freisin chun cur leis an Labhairt agus an Eisteacht.

Rang a Tri:
Ar cle; an teacs...
gnathsceal, le focloir ag bun agus barr an leathanaigh

Ar deis; na cleachtai…
Fior no Breagach?, Freagair na Ceisteanna, Scriobh an Focal Ceart faoi gach pictiur agus Faigh Ceithre Fhocal on sceal ar an gCrann Nollag.