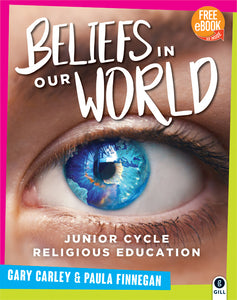 Beliefs in Our World provides everything you need for Junior Cycle Religious Education. Written by a highly experienced author team, it provides the perfect balance of engaging content and skills-based active learning.
Inclusive of all faiths and none, it facilitates students' exploration of the five major world religions and non-religious worldviews, with lots of choice offered through option chapters.
Suitable for exam and non-exam classes, it allows students to reflect on their own beliefs and values, and to explore the 'big questions' in life.
Students investigate how religion has shaped and impacted the world around them, particularly Irish culture and heritage.
At the beginning of each chapter, Learning Outcomes are broken into clear, achievable Learning Intentions and students are encouraged to activate prior learning.
Every chapter includes eight Key Skill activities that integrate active teaching strategies such as Think–Pair–Share, Dotmocracy and Ranking Ladders.
Tech Time activities develop students' digital literacy.
Assessment features include Question Time to check understanding, End of Chapter Projects to promote student-led learning, and Unit Reviews to encourage self-reflection.
Guidance is provided on how to approach the Classroom-Based Assessments.