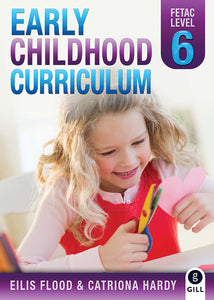 Comprehensive and practical textbook presenting an overview of early childhood curriculum, exploring a range of early childhood theorists, their pedagogical principles and how these complement and reinforce the underlying philosophies and themes of Aistear and Síolta.
Explores a range of early childhood programme models, their approaches and how to implement them in both indoor and outdoor settings.


Presents the role of the adult as critical to the support of child well-being and belonging through relevant curriculum planning and implementation.


Relevant legislation and national practice guidelines underpin the suggested practical application of theories.


Details key early learning themes:

Early Learning Philosophy
Early Learning Environment
Early Learning Literacy and Numeracy
Early learning arts and culture



Presents reflective practice and mentoring as a method of self-evaluation and skills development.
Written For:
The mandatory component of the Early Childhood Care and Education Major Award (6M2007):
FETAC Level 6 Early Childhood Curriculum (6N1944)
And the elective component:
FETAC Level 6 Early Learning Philosophy (6N1932)
FETAC Level 6 Early Learning Environment (6N1933)
FETAC Level 6 Early Learning Literacy and Numeracy (6N1935)
FETAC Level 6 Early Learning Art and Culture (6N1936)