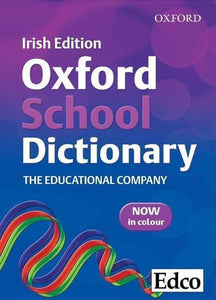 A comprehensive dictionary to support learning at home and in school.

Includes over 45,000 words and phrases in alphabetical order with clear and simple definitions to help with reading, writing and spelling.
Example sentences show how words are used in practice.
Special panels on grammar usage, word origins, and countries and peoples of the world are given to extend language skills.
In addition, an Irish section at the back includes:
A select dictionary of Irish words used in English.
A select dictionary of Irish place names.
Mammals of the Irish countryside.
Presidents of Ireland.
Historical timeline.