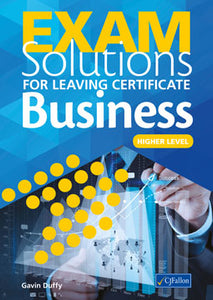 Exam Solutions for Leaving Certificate Business Higher Level is a comprehensive revision guide. Each unit is broken down according to how the units have appeared in past papers. Units contain:
Marking schemes and H1 solutions to past Leaving Certificate exam questions, allowing you to access and study each topic by unit.
Tips on how to answer Business Leaving Certificate Higher Level questions, including important verbs and structuring techniques that are essential to avoid losing marks unnecessarily.
A breakdown on how to answer the Applied Business Question (ABQ), plus detailed H1 solutions to past ABQs.
This guide is the ideal complement to your textbook, giving you all the information in the context of past Leaving Certificate papers to aid your exam preparation!
Author: Gavin Duffy