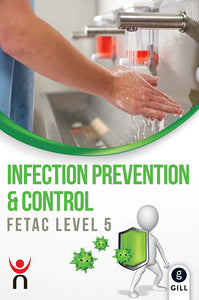 A new textbook based on the revised FETAC module descriptor (5N3734) introducing the knowledge, skill and competence to prevent and control infection in the health services area.
Explains the basic principles of infection and the application of standard precautions in relation to its control, including the significance of an area of Infection Control.


Discusses the importance of infection prevention and control, the various types of hand hygiene, and relevant cleaning standards and procedures in the healthcare area in providing a healthy environment for patients, staff and visitors.


Identifies the various types of micro organisms, main blood-borne viruses and the predisposing factors to the development of healthcare-acquired infections.


Examines the role of antibiotics and the importance of correct and safe antibiotic use.
Written For:
Students taking the Infection Prevention and Control component module (5N3734) as part of the following major awards:
Health Service Skills (5M3782)
Healthcare Support (5M4339)
Nursing Studies (5M4349)