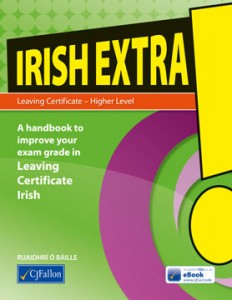 Second hand book 
Irish Extra!

 

is exam-focused and designed to maximise your performance during the Leaving Certificate Irish examination, to ensure that you achieve top marks on the day.
This handbook acts as a companion – a personal tutor – for the duration of your Irish course, comprehensively preparing you for all aspects of the examination.
Drawing on recent Irish examinations, this handbook is full of the vocabulary and grammar that you will need for every part of the examination, guiding you step-by-step and teaching you how to respond to questions in the most effective manner.
Includes a student CD, sample answers, examination tips and lots of essential advice to help you learn and consolidate information in the most efficient and effective manner.