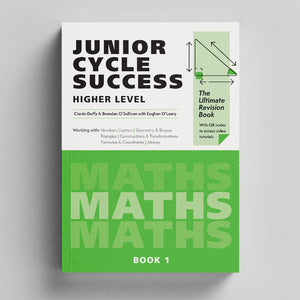 Junior Cycle Success Maths is a dynamic set of books that have been designed to make the challenge of revision easier. 

The full course has been broken down into key topics, presented in a careful and clear way to ensure complete preparation for the Maths exam. Special attention has been paid to ironing out common misconceptions that can lead to frustration. 
Book 1 provides a thorough foundation in the Junior Cycle strands of Number, Algebra, Geometry and Trigonometry. Each topic is supported by the use of QR codes that bring you directly to short videos that give further explanations.