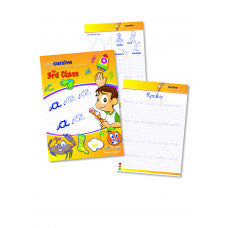 The Just Cursive Handwriting scheme provides a carefully designed and sequenced programme to enable the introduction of a cursive style of handwriting from the beginning of schooling. This adheres to the principles of the new Primary Language Curriculum. 
Provides structured, simple activities to develop fluent handwriting skills
Revising letter structures, reinforcing formations from the Just Cursive 2nd Class book and writing using the new letter 'r' and 's'
Offers option of pupil self-assessment
Supports the teaching of fully cursive handwriting from infants level  
Free digital download for the whiteboard available for schools adopting the programme.
Written by an experienced Primary School Teacher
Carefully planned class lessons to ensure continuity and progression