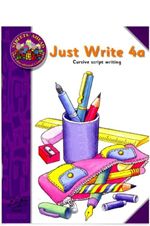 Streets Ahead is the second part of our English Language Programme, aimed at classes from 3rd - 6th. Children are given the opportunity to explore a wide range of texts - fiction, non-fiction, poetry & novels - and to respond to it in a variety of ways.
This handwriting book brings the children through the process of cursive writing.
The Just Write Series provides extensive practice of handwriting skills, includes lively fun exercises with specific objectives and incorporates graded progression throughout.