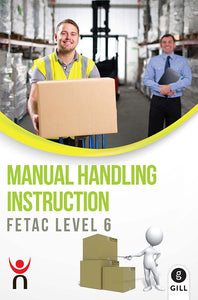 A comprehensive text introducing the principles of effective manual handling, combined with clear guidance on how to design and deliver manual handling instruction for the workplace, within the context of relevant health and safety legislation.
Introduces the relevant health and safety legislation and guidance documents, including the Manual Handling of Loads Regulation 2007, the principles of prevention as outlined in the Safety, Health and Welfare at Work Act 2005 and relevant guidance from government and professional bodies.


Evaluates the benefits of an integrated approach to the management of manual handling, which includes a manual handling policy, staff consultation, risk assessment, implementation of appropriate controls and relevant training.


Details the musculoskeletal system of the human body and highlights common occupational back disorders and injury mechanisms.


Explains key ergonomic principles for workplace design and the manual handling risk assessment process through the use of case studies and scenarios.


Identifies the main principles of manual handling with particular emphasis on the need to carry out a personal and dynamic risk assessment.


Demonstrates how to carry out a range of appropriate manual handling techniques, including the lifting, carrying, pushing, pulling, supporting and pulling down of a load by one or more persons.


Advises on how to develop and deliver manual handling training programmes, formulate lesson plans, use appropriate materials and aids to support learning and develop strategies to motivate changes in manual handling practice.
Written For:
FETAC Level 6 Manual Handling Instruction (6S0242) Special Purpose award.