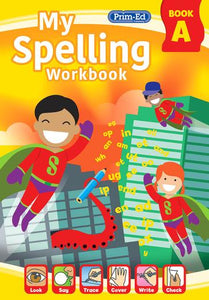 Please note that this is the NEW EDITION of MY SPELLING WORKBOOK A.
Please check with your child's teacher if you are unsure about which edition you are looking to buy.
NEW My Spelling Workbook A.
My Spelling Workbook is entirely focused on spelling strategies for Senior Infants pupils, that will develop and nurture their spelling abilities. Complemented by a comprehensive Teacher Guide, My Spelling Workbook ensures both teacher and pupil receive the full value of the workbook which is also supported by dictation, assessment, games and worksheets.
Features:
18 four-page spelling units - one for every two weeks of the school year 
full-colour workbook with phonetically organised word lists
an active multi-sensory approach to spelling to make pupils more aware of their own individual learning style and activities to develop visual memory