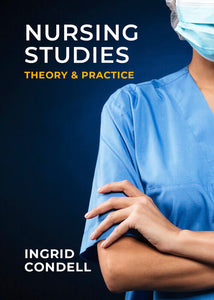 Nursing Studies Theory and Practice (2021)
NEW comprehensive introduction to contemporary professional nursing in Ireland
✱ Explores the history and development of nursing and the influence of EU Directives and societal and economic changes on the profession.
✱ Outlines the changes to nurse training and education and presents current program options.
✱ Introduces legislation and regulation that guides nursing practice.
✱ Outlines the structure of the Irish healthcare system and the role that nurses play in policy development and implementation.
✱ Discusses contemporary issues in nursing and the guidance provided by the NMBI in relation to ethics, Code of Professional Conduct and Scope of Practice.
✱ Examines the complex role of the nurse including empathy, interpersonal skills, therapeutic relationships and reflective practice.
✱ Explains the concepts of evidence-based practice, critical thinking and the use of the Roper, Logan and Tierney model of care and the Nursing process.
✱ Highlights the principles of manual handling/people moving and includes 11 pages of full colour photos with clear step-by-step procedures.
✱ Presents the scientific principles underlying infection prevention and control practices, their practical application and the management of infectious illnesses.
✱ Describes the theory and practice of fluid balance measurement and recording, and the measurement of physiological observations.
✱ Explains the importance of accurate record keeping and documentation in nursing.
✱ Describes a range of drug preparations, routes of drug administration and the importance of precision in medication management.
✱ Provides examples of the empathic behaviour of nurses throughout.