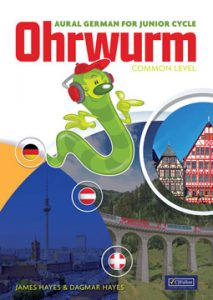 Working with Ohrwurm will improve students' confidence and ability in the use of the German language. This book is an invaluable teaching aid in consolidating German listening comprehension skills.
Includes

 

18 listening comprehension tests

 

covering

 

all aspects

 

of the curriculum.
Also provides Junior Cycle

 

key vocabulary

 

and language learning tips.
Written in the format of the

 

NEW Junior Cycle common level exam.
Offers built-in

 

revision opportunities.
New words and useful phrases

 

are covered in the vocabulary section at the end of each unit.
Tests refer to a

 

wide range of topics.
Frequent testing of

 

numbers, e.g., dates, phone numbers and prices.
Prepares students for the

 

progression to Leaving Certificate Aural.
Accompanied by three CDs (sold separately).