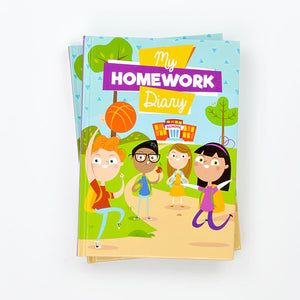 A5 size.
Durable thread-sewn binding with full-colour paperback cover.
Space to record pupil, school and emergency contact details.
Black and white, undated, 40 week diary spread with space for notes to/from teacher.
Daily Parent/Guardian sign-off. A full colour timetable.
Each week of the diary spread supports the National Literacy Strategy by providing an interesting "Word of the Week".
The diary includes:
A full colour map of Ireland in Irish and English
The 100 number square Maths tables (+ - x ÷) Fraction, decimal, percentage and ratio charts
Time telling and 24 hour clock conversions
The Irish National Anthem