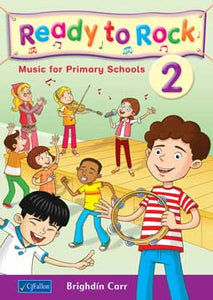 Ready to Rock is set in the town of Little Rock and takes the class on a magical, musical journey through the strands and strand units of the music curriculum, in a fun, modern and integrated way.
For Senior Infants, the programme is delivered through the likeable characters of Ricky Rhythm and Casey Ceol, best friends at the school of Little Rock. Ricky and Casey, with the help of their teachers and friends, meet many colourful characters who guide them on their musical adventure.
Ready to Rock teaches the children that music is for everyone. The songs and excerpts are fresh and lively, ranging from original to traditional, historic to futuristic and from Irish language to Angolan.
Themes are specially chosen to correspond with the children's own life experience. Gaeilge and drama are integrated throughout.