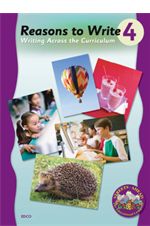 An integrated approach to writing for 4th Class.
A full-colour, student-friendly creative writing text.
Focuses on 7 distinct styles of writing Recount, Persuasive, Narrative, Poetry, Report, Procedural and Explanation.
Gives an example and analysis of each style, and provides pupils with a template to create their own personal writing.
Special pages throughout deal with grammar and punctuation.
Helps to improve literacy.
The topics are practical and useful in everyday situations.
Fosters independent writing.
Encourages writing across the cirriculum.
Encourages the use of ICT throughout.