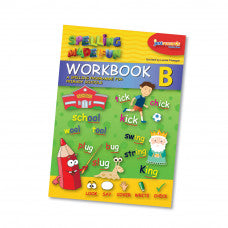 Spelling Made Fun is a new and innovative fun, multi-sensory spelling programme developed specifically for Irish Primary schools and has been extensively reviewed by practising teachers nationwide. Workbook B is suitable for 1st Class.
Features:
32 weekly units of work which include fun activities to reinforce the spellings.
Wordsearches, crosswords, phonic activities, cloze procedure exercises, punctuation and grammar activities, spelling tips, rules and mnemonics. Lots of opportunities are provided to apply the spelling in different contexts.
Spelling lists with practice sheets for each unit to be completed at home each night using the Look, Say, Cover, Write, Check technique.
Spelling lists include words relevant to the pupils' writing. Initial and final consonant blends –ill, -ell, -ide, -ite, -ine, -est, -ate, -ame, -ool, -ss, -ff, -end, -ank, -ent, -est, -and, -ong, -and, -ick, -uck families, -ar, -or, -ur, and –ir.
Self-evaluation weekly record sheets.
An overall record grid to record scores for each unit for both teachers and pupils to monitor and track progress.
Dictation is an essential element of this programme. It is designed to accompany the Spelling Made Fun withVisual Patterns Teachers Guide Lower Level 2.